Looking Ahead at Bedrock Gardens
The future looks bright in Lee, with Bedrock's first full season as a public garden.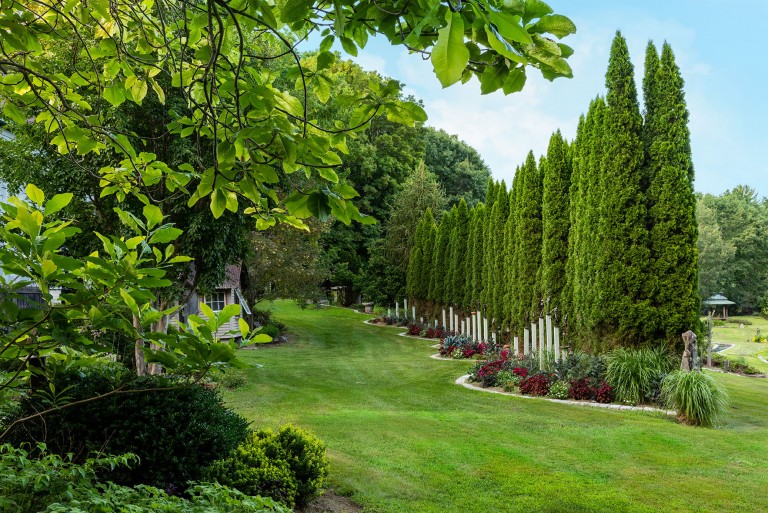 One of the joys of summer is visiting other gardens. Whether you're a gardener seeking inspiration, information or just a pleasant afternoon outing, nothing beats getting a glimpse behind a new garden gate.
This year, Bedrock Gardens in Lee is opening for its first full season as a public garden. Owners Jill Nooney and Bob Munger decided in 2007 that, for their garden not to fall into disrepair when they could no longer care for it, they would have to take action to preserve it. "The pleasure others derived from the garden—paired with the fact we can't take it with us—propelled us to try and turn the garden into one open to the public," Nooney says.
Popular demand
Bedrock was already a popular garden destination. "Way back in 1998, we started opening the garden two weekends a year as a stage to showcase my outdoor sculptures," Nooney says. After a few years, word of the garden spread fast.
"For several years, we were open one weekend a month, and when we went to two weekends a month, we had more than five thousand visitors!" Munger says.
The most impressive water feature on the property is a two-hundred-foot-long channel dubbed "the Wiggle-Waggle" for the way it curves across the property.
While Nooney and Munger created the garden as their own private oasis—designed with its back to the road and its heart in the middle of the property—others found refuge there as well. "What began as a haven just for us evolved into a space that the public insisted we share and preserve," Nooney says.
Roots of a garden
The garden has been created on land that was originally a farm dating from 1740. When Nooney and Munger bought the property in 1980, the land had been neglected for about forty years. The couple spent their first years there clearing overgrown fields of poison ivy, saplings and brush.
Actual landscaping began in 1987; then Nooney and Munger added a ¾-acre pond in 1991. The soil excavated from the pond was used to build a berm alongside busy Route 125 to buffer the road noise and block the sight of traffic. Selective cutting of trees opened up the property even more, and two miles of trails made the wooded areas accessible.
Art meets nature
Over the years, Nooney and Munger have added all manner of unique structural elements and hardscape, including stone walls; paved paths and patios; a living Belgian fence made of eleven varieties of espaliered apples; a massive torii gateway arch; a tea house; pagodas and pergolas; a tall arborvitae hedge; water features; and lots of art.
In the winter, when she can't be out in the garden, Nooney is in her workshop busily welding arbors, plant supports and her fanciful pieces of garden art. Many of these quirky sculptures are made from old tools and farm implements, giving them new life. Her work is full of witty puns and symbols, making it as cleverly entertaining as it is beautiful and adding a sense of humor to the garden.
Lots to see and do
Nooney believes that a garden needs to have destinations. At Bedrock, there are twenty-three garden areas linked with paths to form a journey with comfortable spots along the way to sit and enjoy the sights.
There are many axis views that draw visitors through the garden. One is nine-hundred-feet long, looking from a pair of thrones backed by a formal grove—called a bosquet—of seven-son trees (Heptacodium miconioides) at one end of the property, over the pond, down the four-hundred-foot-long allée of Chinese fringe trees (Chionanthus retusus), through the torii gate to two maple trees on the boundary line of the neighboring farm.
A second axis is called the "baxis"—short for back axis. Almost as long as the first, it starts at the barn, looks across several garden spaces, intersects the first axis at the torii gate, goes under the high pergola and ends at a tree hung with compact discs, that sparkle in the light.
Nooney is very conscious of sight lines, placing a specimen plant or piece of sculpture to catch the eye and lead visitors to explore what lies ahead.
The twenty-three gardens combine to form a huge, living work of art. There is the Garish Garden, which boasts red, orange, bright pink and yellow flowers in eye-popping combinations; dynamic sculptures; and even a fun-house mirror. The formal Parterre is a calm garden of white flowers enclosed with a clipped yew hedge. Its
diamond-patterned pathway leads to a center pool with fountain. An eight-foot metal arch of three acrobats frames the view of a Japanese water garden, drawing the eye to the teahouse behind it. There is a garden dedicated to all things round, one devoted to dwarf conifers, a rock garden, a swaleway for spring flowering plants and many more gardens to discover. If you are feeling brave, be sure to visit the Dark Woods where mysterious sculptural figures await under the tall pines.
Tireless teamwork
Nooney and Munger are two incredibly talented people who work well together, complementing each other's strengths. Not only an artist, Nooney is also a knowledgeable horticulturalist, having graduated from the Radcliffe Seminars Landscape Design Program. She is the idea generator, and Munger, a retired family physician and problem solver, enjoys finding ways to bring those ideas to life. "If you can think it up, I can make it happen," he told his wife.
"Bob can fix or build just about anything," Nooney says. He has made intricately patterned walkways and patios, devised the plumbing for the pools and fountains, built stone walls and constructed buildings. The most impressive water feature on the property is a two-hundred-foot-long channel dubbed "the Wiggle-Waggle" for the way it curves across the property. Water flows from the springhouse—made from a repurposed skylight—through the three-foot-wide channel filled with pink lotus blossoms and into a thirty-foot-wide koi pond, before being pumped back to the springhouse. Like many of the large, more involved features of the garden, Nooney says this one took about two years to complete.
When they began work on their gardens, Nooney and Munger were busy professionals raising a family. Both love gardening and working outside was a way to decompress from the daily grind. With the exception of running heavy equipment, they did all the work themselves. About twenty of their thirty-seven acres are planted in gardens, which include many rare and interesting perennials, trees and shrubs.
This creatively re-purposed New England farm is a one-of-a-kind property and has become a haven for art, horticulture and inspiration. It also is part of a green corridor that connects five area properties and encompasses more than two hundred acres, preserving open space. "What makes the garden noteworthy is its size, and its blend of unusual horticulture, strong and inventive garden design, and critically sited sculpture. My mission in the garden is to encourage visitors to slow down and stay a while; the more you look, the more you see," Nooney says.
Going public
Becoming a public garden has been a long process; attaining nonprofit status for the Friends of Bedrock Gardens was one of the first hurdles to overcome, taking ten years. "The mission of the Friends group is to take over and run the garden," Nooney says. The Friends group also established a governing board and brought in John Forti as founding executive director.
"When I first visited Bedrock Gardens, I felt inspired by the genuine creativity, unique plant selections that I had never seen before and a sense of wonder," he says. "The landscapes ranged from classical to wild and woolly, from elegant to humorous. I was instantly at home there."
Forti recently returned to New Hampshire after three years as horticulture director at the Massachusetts Horticultural Society. Area folks know him from his years as curator of historic landscapes at Strawbery Banke in Portsmouth and co-founder of the Seacoast Slow Food chapter. "His knowledge of plants, the region and its people, in addition to his magnetic personality, make him the perfect person for the job," Nooney says.
Forti's primary role as director is to increase Bedrock's visibility locally as well as nationally, expand their educational programs, professionalize their operations, and secure their place as a destination for horticulture and art. "He will carry us over the threshold to be a fully public garden," Nooney says.
Future plans
"I am personally excited to dive in and help create new design spaces, programs, garden merchandise, and fun places for family and community engagement," Forti says.
The woodlands between the parking lot at a new point of entry and the existing landscapes offer opportunities to create additional gardens. "We are just starting to explore how we can add plantings like a fernery, and a children's garden space that will offer fun and meaningful lessons for families with our own unique twist," Forti says. "I look forward to growing a staff that will help us to become exemplary stewards, educators and agritourism leaders in our region. Above all, I look forward to helping us grow as a land-based cultural oasis and gathering place for the community to find calm and inspiration in a harried and fractious world."
Forti points out that the town of Lee is like the bread-basket for the Seacoast. Bedrock is surrounded by amazing farms, wineries, distilleries, nurseries and open space that make it a great family destination from anywhere in the region. Nooney has created a pamphlet called "Off the Beaten Path," which lists things to do in the area; there's also a list of nearby places to eat on their website: bedrockgardens.org.
"Our future is bright, and we are pretty darn excited to share the garden. Come one, come all and bring your curiosity," Nooney, Munger and Forti say.